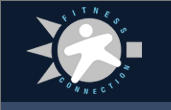 At Fitness Connection, we know that your health and fitness go in hand in hand. We understand that many of you would like to lead a healthier life but struggle to find the time and need a helping hand to start out and then to maintain interest and motivation.
Too many health clubs are only willing to take your joining fee and charge extortionate monthly membership, rather than making you feel comfortable with fitness and ensuring exercise packages are shaped to your particular needs and busy life schedule.
Fitness Connection is different. We are friendly and experienced. Your health and fitness matters. We have the programmes and packages with which you will feel confortable, cost very little and produce results!
Wheather it is a ladies only beginners exercise programme for just 30 minutes or an advanced fitness routine to reach new levels, we cater for all. What's important is that we care that you see real, long term improvements with your health and fitness and feel comfortable with your progress at all times.
For more information or to book an appointment – call us on (01462) 437757.